Open Access v4 Jumpers
From ACCX Products Wiki
Hardware Settings and Defaults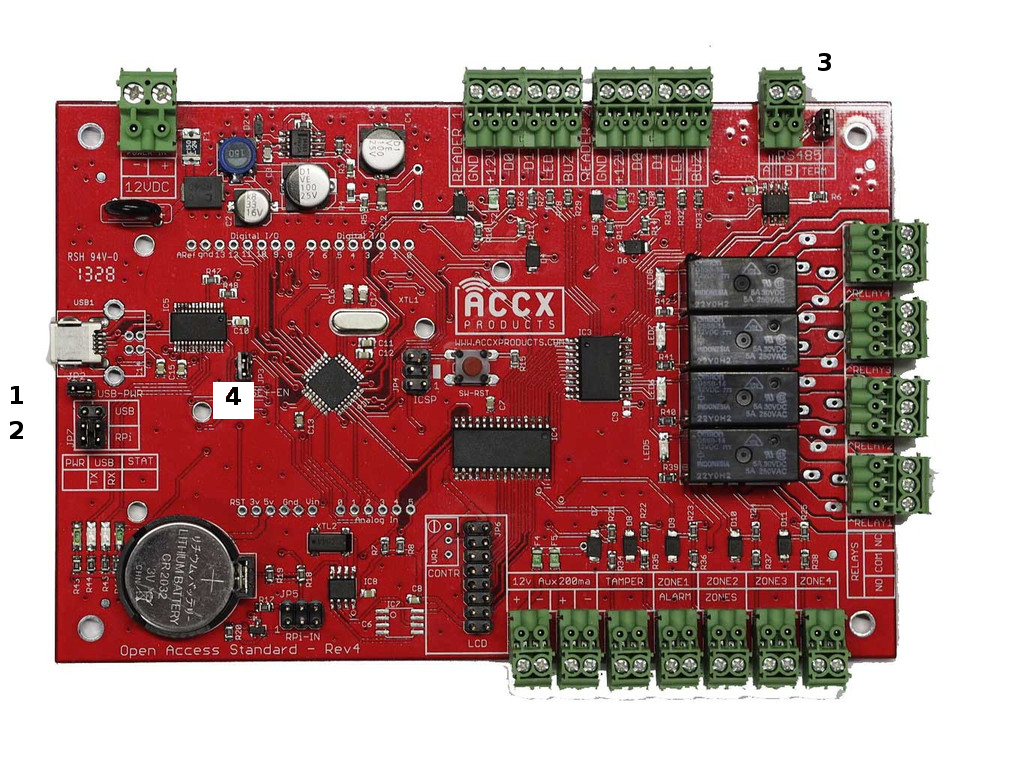 The Open Access comes ready to run out of the box, advanced users may want to customize their hardware. The following is a list of hardware features that can be selected via jumpers.

Jumper Table
1 USB Power - Enable this jumper to allow the board to be powerd via USB or power an attached accessory.

Default: ON
Recommend turning this off if you need to ensure that your external device does not remain powered by the OA's 5V USB connection.

2 USB/RPi Selector - Determines whether the Open Access communicates via the mini-USB port or the Raspberry Pi connector

Default: Both jumpers UP (USB)
Set both jumpers in the pair to "USB" (top) setting to connect the serial output to the FTDI-based USB port.
Important: Move both jumpers for proper operation. One jumper is for TX and one is for RX to the Atmgea328P.

3 RS-485 Termination - Enables a termination resistor for end-of-bus on an RS-485 circuit

Default: ON
Recommendation: Leave this to ON if connecting 0-1 devices, or if it is the last unit in the circuit.

4 Reset Enable - Can be used to disable the resetting and re-flashing of the Open Access CPU

Default: ON (Reset enabled)
Recommendation: Set this to OFF for increased security; setting it to OFF will prevent a reset and bootloader access. Set to OFF if a USB-attached peripheral may hard-reset and interfere with operation of the unit. Set to ON to allow programming/reset from USB.